February 18th, 2021
Snow Day!
Due to the inclement weather and unsafe road conditions, Dentistry For Special People will be closed today, Thursday, February 18th, 2021.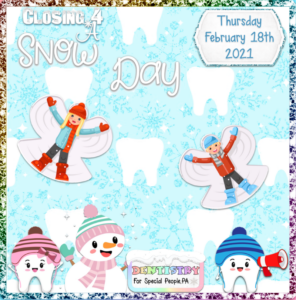 We understand the importance of getting appointments rescheduled at a date and time that works around your family's schedule, and we assure you, that will be our priority! As soon as the storm clears and we can safety get back to the office, we will begin reaching out to everyone who had a cancelled appointment and work with you to find a new appointment for your child in the upcoming week.
Although our phones will be off for regular communications, our on call doctor is still available in case of emergency. Please call the main office number of either location for the emergency phone line.
We are always posting updates on all of our social media outlets as well, so now is a great time for you to follow us on our CH Facebook or WT Facebook, Twitter, Instagram, and even Pinterest!
Stay warm, stay safe and enjoy this Snow Day with your family!